Boston Turkish Festival's 11th Annual Documentary & Short Film Competition finalists are announced. Screenings will take place between November 4 - 13, 2016 at the Museum of Fine Arts, Goethe-Institut and Boston University. Click here for more...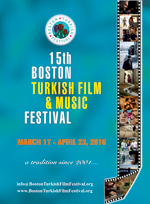 This year's film program continues the tradition of highlighting emerging and established filmmakers of the Turkish cinema. Most of the films in the program are award-winners in international film festivals, and many of them will have their North America or US premieres at the Boston Turkish Film Festival. We are particularly proud to have many films directed by women filmmakers.
This year we'll present our 10th Excellence in Turkish Cinema Award to Cagan Irmak for his contributions to Turkish Cinema.
Award-winning films of the Boston Turkish Festival's Documentary and Short Film Competition will be screened and the directors will be presented their awards at a ceremony following film screenings on Saturday, March 26th. A panel discussion with the award-winning directors will follow the screenings, moderated by film critic Peter Keough.
In the music program of the Festival, we are delighted to present you a very special concert series, which begins on Wednesday, April 6th with distinguished musicians ERKAN OGUR and ISMAIL HAKKI DEMIRCIOGLU at Boston University. On Saturday, April 16th, at the Goethe-Institut, kanun virtuoso TAHIR AYDOGDU will give a special concert, TURKISH MELODIES IN BOSTON, performing Murat Akcay's Concerto for Kanun and Strings for the first time in the US. Our closing concert will be by BULENT GUNERALP (bass-baritone), EUNYOUNG KIM (pianist), AND FRIENDS performing an eclectic spring concert with selections from opera, Broadway, American Songbook, solo piano repertoire, and more at the Goethe-Institut.
Film program co-presented with the Museum of Fine Arts, Boston
ALL FILM SCREENINGS WILL TAKE PLACE AT THE MUSEUM OF FINE ARTS, BOSTON

"Boston Turkish Film and Music Festival Ends With Spring Concert" - TurkishNY, May 2, 2016
"15'inci Boston Türk Film ve Müzik Festivali sona erdi" - Hürriyet, 1 Mayıs 2016
"Ödüller sahiplerini buldu" - Hürriyet, 1 Nisan 2016
"Çağan Irmak'a ABD'den "mükemmellik" ödülü" - CNNTürk, 24 Mart 2016
"Çağan Irmak'a ABD'de ödül" - NTV, 24 Mart 2016
"Boston'da Çağan Irmak'a ödül" - 7/24 Kültür Sanat, 24 Mart 2016
"Boston Türkisches-Filme-Festival" - TRT Deutsch, 16 März 2016
"Boston'da spotlar Türk sinemasının üzerinde - Radikal, 17 Mart 2016
"Turkish Films Festival in Boston" - Hürriyet Daily News, March 17, 2016
"Boston to host Turkish Film Festival" - Daily Sabah, March 16, 2016
"SPOTLIGHT ON TURKEY" by Loren King - Boston Globe, March 4, 2016
Follow us on





Opening Night
Thursday, March 17 | 6:30 pm

IVY
Sarmaşık

DIRECTOR TOLGA KARACELIK PRESENT

Festival Opening Reception
following the screening

Friday, March 18 | 4:00 pm

MY GRANDFATHER'S PEOPLE
Dedemin İnsanları

DIRECTOR ÇAĞAN IRMAK
PRESENT

Friday, March 18 | 7:00 pm

DIRECTOR ÇAĞAN IRMAK
PRESENT

BTF Excellence in
Turkish Cinema
Award Presentation
to Çağan Irmak



Sunday, March 20 | 12:30 pm

RIMOS AND ZIMOS:
PEACE IN TOWN
Rimolar ve Zimolar:
Kasabada Barış


Sunday, March 20 | 2:30 pm

LEMONADE
Limonata


Wednesday, March 23 | 7:30 pm

MUSTANG






Thursday, March 24 | 8:00 pm

REMAKE, REMIX, RIP-OFF
Motör

Friday, March 25 | 7:30 pm

YEARNING
Hasret

DIRECTOR BEN HOPKINS
PRESENT





Saturday, March 26 | 12:00 pm

BTF Documentary & Short Film Competition Winners

MIGRATION
Koçer
Best Documentary Award

ZÜLFÜ LİVANELİ: A VOICE
BETWEEN EAST AND WEST
Zülfü Livaneli: Doğu ve Batı Arasında Bir Ses
Best Documentary Audience Award


Saturday, March 26 | 2:30 pm

BTF Documentary & Short Film Competition Winners

THE NEXT ONE
Sıradaki
Best Short Film Award

RED LIGHT - FRANCE IS GOOD
Kırmızı Işık – Fransa Çok Güzel
Best Short Film Award

Award Ceremony and
panel discussion after film screenings, moderated by
film critic Peter Keough




Sunday, March 27 | 12:30 pm

BROTHER
Kardeşim Benim




Sunday, March 27 | 3:00 pm

UNTIL I LOSE MY BREATH
Nefesim Kesilene Kadar

Wednesday, March 30 | 6:30 pm

NAUSEA
Bulantı

DIRECTOR ZEKİ DEMİRKUBUZ
PRESENT

Thursday, March 31 | 6:30 pm

COLD OF KALANDAR
Kalandar Soğuğu

DIRECTOR MUSTAFA KARA
PRESENT

Friday, April 1 | 8:00 pm

MOTHERLAND
Ana Yurdu

Saturday, April 2 | 12:30 pm

SNOW PIRATES
Kar Korsanları

DIRECTOR FARUK HACIHAFIZOGLU
PRESENT









Saturday, April 2 | 3:00 pm

ISTANBUL UNVEILED

SPECIAL PRESENTATION BY
DIRECTOR ŞERİF YENEN
AFTER FILM SCREENING


Sunday, April 3 | 11:30 am

MUSTANG

Sunday, April 3 | 2:00 pm

FRENZY
Abluka

Wednesday, April 6 | 7:30pm

Concert
ERKAN OĞUR & İSMAİL
H. DEMİRCİOĞLU LIVE

Saturday, April 16 | 7:30pm

Concert
"TURKISH MELODIES
IN BOSTON"
by TAHİR AYDOĞDU

Saturday, April 23 | 7:00pm

Concert
BÜLENT GÜNERALP,
EUNYOUNG KIM & FRIENDS

- Sold Out -