Director Yesim USTAOGLU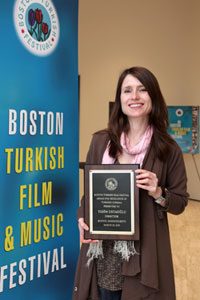 Yesim Ustaoglu, after graduating from Karadeniz Technical University with a degree in architecture, started her filmmaking career with several award-winning shorts. Her feature film debut was in 1994 with The Trace (Iz). The film was presented at numerous international festivals, including Moscow and Gotenburg.
Yesim Ustaoglu received international recognition for her 1999 film, Journey to the Sun (Gunese Yolculuk). In competition at the Berlin Film Festival, Journey to the Sun received the Blue Angel Award for the Best European Film and the Peace Prize, and swept the Istanbul Film Festival by winning Best Film, Best Director, the Fipresci Prize and the Audience Award.
Ustaoglu's third feature film, Waiting for the Clouds (Bulutlari Beklerken), the story of a women forced to live for 50 years with the haunting secrets of a hidden identity, was awarded the NHK Sundance-International Filmmakers' Award. Film traveled many festivals (screened at the 5th Boston Turkish Film Festival in 2005), and established a strong reputation for the director.
Director's fourth film, Pandora's Box (Pandora'nin Kutusu) is the opening film of the 9th Boston Turkish Film Festival. The film, among many, won the Best Film and Best Actress Awards in the prestigious San Sebastian Film Festival in Spain.
Filmography:
Pandora'nin Kutusu / Pandora's Box (2008)
Bulutlari Beklerken / Waiting for the Clouds (2004)
Sirtlarindaki Hayat / Life on their Shoulders (2004, doc.)
Gunese Yolculuk / Journey to the Sun (1999)
Iz / The Trace (1994)
Otel / Hotel (1992, short)
Duet (1990, short)
Magnafantagna (1987, short)
Bir Ani Yakalamak / To Catch a Moment (1984, short)