9th BOSTON TURKISH FILM & MUSIC FESTIVAL
March 25 - May 16, 2010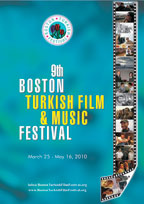 This year's festival invites you to enjoy a rich program of sixteen films as it continues its tradition of highlighting contemporary Turkish cinema and Turkish filmmakers. We are proud to present you North America and U.S. premieres of many films in our program. We are also delighted to announce that 2010 Boston Turkish Film Festival Excellence in Turkish Cinema Award recipient is acclaimed director Yesim Ustaoglu. Award Ceremony will take place preceding the screening of her latest film, Pandora's Box (Pandora'nin Kutusu), winner of Best Film and Best Actress Awards at the prestigious San Sebastian Film Festival.


Please click on the event title or picture for more information and to watch film trailers.


2010 PROGRAM



OPENING NIGHT

Thursday, March 25




7:00pm

On the Way to School| Iki Dil Bir Bavul

Friday, March 26

6:00 p.m.
Tribute to Masters
OH, BEAUTIFUL ISTANBUL
Ah Guzel Istanbul

Kosmos

Friday, April 2

6:00pm
BORNOVA BORNOVA


1:00pm


3:30pm

Thursday, April 15



7:00pm


Sunday, April 18



5:00pm


Sunday, April 25



5:00pm


Saturday, May 1



8:00pm


Saturday, May 15, 8:00pm
Sunday, May 16, 3:00pm






Co-presented with the Museum of Fine Arts, Boston
All film screenings will take place at

Remis Auditorium
Museum of Fine Arts
465 Huntington Avenue, Boston
For locations of other festival events, click on the event title

Follow us on