2014 | 2013 | 2012 | 2011 | 2010 | 2009 | 2008 | 2007
2008 BOSTON TURKISH FILM FESTIVAL
EXCELLENCE IN TURKISH CINEMA AWARD
Reha Erdem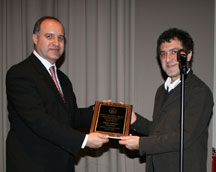 We are proud to present our second Boston Turkish Film Festival Award for Excellence in Turkish Cinema, a first in North America among the Turkish film festivals to director, filmmaker REHA ERDEM, in recognition of his contributions to Turkish cinema. 

Director Reha Erdem will be present at the award ceremony which will take place on the closing night of the festival, on Sunday, April 6, 2008, at 7:30 p.m., preceding the screening of his latest, internationally acclaimed and award-winning film Times and Winds (Bes Vakit). 

Reha Erdem left his history studies at Istanbul Bosphorus University in 1983 to study cinema in Paris. He graduated from Cinema Department of Paris 8 University. He obtained his M.A. in Plastic Arts at the same university. He shot his first feature-length film Oh Moon (A Ay) in 1989 as a French-Turkish co-production. The Film was nominated for The European Film Academy Awards in 1990. It was awarded at the Nantes Film Festival. It was also screened in Locarno, Moscow, Vancouver, and Dunkerque Film Festivals. It was selected The Best Film of The Year by the Turkish Writers' Association. 

Run for Money (Kac Para Kac), his second feature-length film (1999) was selected as the official submission from Turkey for the Foreign Language Academy Awards. The film competed in Tokyo Film Festival and participated in Münich, London, Göteborg, Oslo, Thessaloniki, Jerusalem, Washington D.C., Palm Springs, New Delhi, Montpellier, and Seattle Film Festivals. 

Reha Erdem shot his third film Mommy, I'm Scared (Korkuyorum Anne) in 2004. The film was first screened at the 23rd International Istanbul Film Festival and received FIPRESCI Award; also participated in several international film festivals including Göteborg, Copenhagen, Montpellier Mediterranean Film Festival and Stuttgart Turkish Film Festival. In Turkey, the film received awards in all the festivals that it participated: Ankara Film Festival (Best Director, Best Script, Best Actor, Best Supporting Actress, Best Supporting Actor, Best Promising Actor); Adana Golden Cocoon Film Festival (Jury's Special Prize, Best Script, Best Supporting Actress); Antalya Golden Orange Film Festival (Best Script, Best Third Film, Best Costume, Best Art Direction, Best Editing). 

His latest film Times and Winds (Bes Vakit) had its world premiere at the 25th Istanbul International Film Festival and received FIPRESCI and The Best Turkish Film Awards. The film was acclaimed by international festivals as well as film festivals in Turkey and received numerous awards. The US Premier of Times and Winds was at the Tribeca Film Festival where it received splendid reviews as well as the attention of the distributors. 

Reha Erdem also has short films and directed a theater play, Maids (Les Bonnes) by Jean Genet at the Istanbul National Theater in 1991 with a unique interpretation. 
Filmography: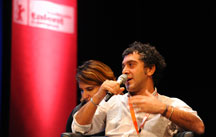 Hayat var / My Only Sunshine (2008)
Ekim'de Hic Bir Kere / Anytime in October (short, 2006) 
Bes Vakit / Times and Winds (2006)
Korkuyorum Anne / Mommy, I'm Scared (2004)
Kac Para Kac / Run for Money (1999)
Deniz Türküsü / Song of the Sea (short, 1995)
A Ay / Oh Moon (1989)