Director TAYFUN PİRSELİMOĞLU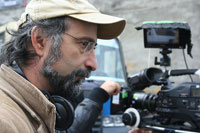 Tayfun Pirselimoğlu is an internationally acclaimed film director, author, and painter.
Born in Trabzon, Turkey, Tayfun Pirselimoğlu graduated from the Middle East Technical University. After his graduation he went to Vienna and studied painting at Hochschule fur Angewandte Kunst (Academy of Applied Arts). He held various exhibitions in different cities of the world, including Vienna, Istanbul, Ankara, Budapest, Tallinn, and many others. He is one of the founders of the Independent Art Initiative of Akademie Genius where he lectured at on script-writing, cinema, and painting. He also conducted workshops in filmmaking in cities such as Vienna, Athens, and Ankara.
Tayfun Pirselimoğlu is the author of four novels; Tales from the Desert (Çöl Masalları), The Album of Missing Persons (Kayıp Şahıslar Albümü), Melancholia (Malihülya), Towers of the City (Şehrin Kuleleri). He is also author of a story book,The Hotel Rooms (Otel Odaları).
Pirselimoğlu started his film career as a script writer and wrote many scripts of short and feature films. He directed his short film, My Uncle (Dayım) in 1999, and then Il Silenzio e Doro (Sükut Altındır) in 2002, both of which received many national and international awards.
In 2002 Pirselimoğlu shot his first feature film, Hiçbiryerde (Innowhereland), which also brought him numerous awards. He made the trilogy of "conscience and death", which includes Rıza (Rıza, 2007), Haze (Pus, 2009), and his latest film Hair (Saç, 2010) all recognized in many film festivals.
Filmography *:

I am not Him (pre-production)

Hair | Saç (2010, 131 min.)
30th Istanbul Film Festival, Best Film, Best Director, Best Actress (Nazan Kesal);
27th Festroia Film Festival FIPRESCI Award;
17th Festival on Wheels Special Mention;
9th Almaty Film Festival Netpac Prize;
47th Antalya Film Festival Best Supporting Actor (Rıza Akın), Best Photography;
44th Turkish Film Critics Best Actress (Nazan Kesal), Best Actor (Ayberk Pekcan)

Haze | Pus (2009, 109 min.)
16th Adana Golden Boll Film Festival Best Photography;
40th Berlin Film Festival;
29th Istanbul Film Festival

Rıza (2007, 109 min.)
19th Ankara Film Festival Best Film, Best Director, Best Art Director;
29th Montpellier Film Festival Film Critics Award;
38th Berlin Film Festival
Innowhereland | Hiçbiryerde (2002, 105 min.)
26th Montreal World Film Festival Special Grand Prize of the Jury;
24th Montpellier Film Festival Young Public Jury Award;
21st Istanbul Film Festival Radikal Public Prize, Best Actress Award (Zuhal Olcay);
2002 Turkish Film Critics Association Best Actress (Zuhal Olcay), Best Supporting Actor (Ruhi Sarı),
Best Supporting Actress (Meral Okay)

Silence is Golden | Il Silenzio è d'Oro (2002, 16 min.)

My Uncle (1999, 15 min.)
7th Capalbio Film Festival Best Film, Best Cinematography Awards;
2000 Milan Street Film Festival Best Film Award;
12th Girona Film Festival Special Jury Award;
Venice Film Festival;
Locarno Film Festival

* Selected Festivals and Awards