Director REİS ÇELİK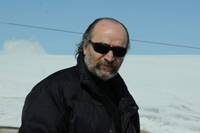 Reis Çelik was born in Ardahan in 1961. He studied music and drama at the State Conservatory. As a student he had several essays, short stories, poems and reviews published in literary and political periodicals.
In 1982 he began a career in journalism, working as economics/political correspondent for various national newspapers. His first venture in the world of film came in 1982, with TV series "Anadolu'dan Selam Postasi", targeting specifically Turkish immigrants in Europe. Around the same time, he began making documentary films, commercial and political campaign films, as well as maintaining an active interest in photography.
To date he has held exhibitions of his photographic work in 12 countries.
He played a key role in establishing ATV, one of the first private TV channels. He left the media in the mid-1990s to devote his time to cinema.
His most recent film Night of Silence (Lâl Gece) received Crystal Bear award at the Berlin Film Festival in 2012.
Filmography (as director):
Night of Silence (Lâl Gece, 2012)
Refugee (Mülteci, 2007)
Tales of Intransigence (İnat Hikayeleri, 2003)
Goodbye Tomorrow (Hoşçakal Yarın, 1998)
Let There Be Light (Işıklar Sönmesin, 1996)