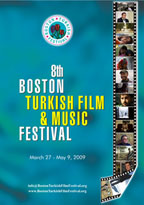 8th
BOSTON TURKISH FILM & MUSIC FESTIVAL


March 27 - May 9, 2009
This year's festival invites you to enjoy a rich program of fifteen films as it continues its tradition of highlighting contemporary Turkish cinema and Turkish filmmakers. We are proud to present you North America and U.S. premieres of many films in our program. We are also delighted to announce that 2009 Boston Turkish Film Festival Excellence in Turkish Cinema Award recipient is acclaimed director Nuri Bilge Ceylan. Award Ceremony will take place preceding the screening of his latest film, Three Monkeys (Uc Maymun).

We have extended our festival program to include a series of concerts, and a food tasting event organized for children and parents celebrating the April 23rd, the Children's Day.

Please click on the event title or picture for more information and to watch film trailers.
2009 PROGRAM



OPENING NIGHT

Friday, March 27


7:00pm

My Marlon and Brando | Gitmek

Saturday, March 28

1:00 p.m.
SUMMER BOOK | Tatil Kitabi

3:00 p.m.
MY MARLON AND BRANDO
Gitmek

Two Lines | Iki Cizgi

Thursday, April 2

8:15pm
A FAIRGROUND ATTRACTION
Hazan Mevsimi


5:50pm


10:30am

Saturday, April 17



8:00pm


Saturday, May 2

Co-presented with the Museum of Fine Arts, Boston
All film screenings will take place at

Remis Auditorium
Museum of Fine Arts
465 Huntington Avenue, Boston
For locations of other festival events, click on the event title (in progress)