ISTANBUL UNVEILED

Presentation by Şerif Yenen after film screening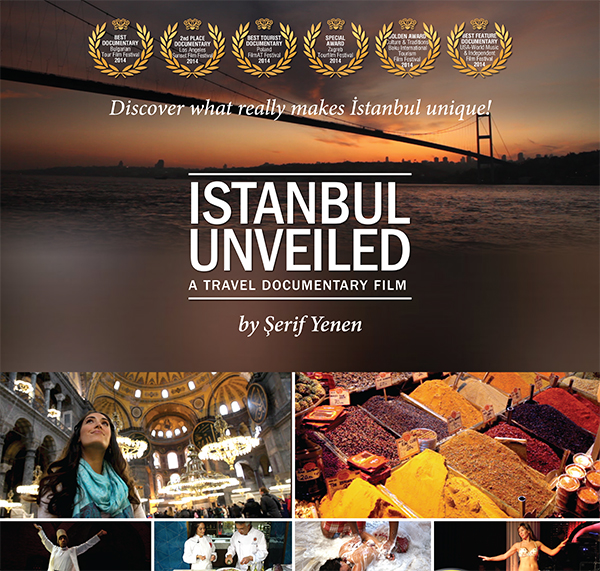 A young American woman visits Istanbul, interviewing interesting characters in both popular and out of the way settings, about topics we have all wondered about. The best belly dancer in Turkey, a masseur at a public bath, and one of the richest women in Turkey are among the colorful people interviewed. The interaction with a large cultural cross-section of local people provides a rich intercultural experience. The selection of interviewees and the questions asked are based on Serif Yenen's 25 years of experience as a tourist guide and travel writer. He anticipates the interests and curiosity of true travelers from his extensive field experiences. These interviews give insight to the culture and its philosophy.
Selected Festivals and Awards
Best Feature Documentary Award, USA World Music and Independent Film Festival, Washington, D.C., USA
2nd Best Documentary Award, Sunset Film Festival, Los Angeles, USA
Golden Award in "Culture and Traditions" Category, Baku International Tourism Film Festival, Baku, Azerbaijan
Best Documentary Award, FilmAT Festival, Warsaw, Poland
Best Promotional Travel Movie, IFFEST DOCUMENT.ART (Tourism International Film Festival), Bucharest, Romania
Special Award, Zagreb Tour Film Festival, Zagreb, Croatia
Best Documentary in History & Culture, Bulgarian Tour Film Festival "On the East Coast of Europe", Veliko Tarnovo, Bulgaria
Grand Prix Nominee, Best Tourism Film Worldwide CIFFT, Vienna, Austria
ŞERİF YENEN
Travel Specialist, Writer, Filmmaker


Şerif Yenen wrote "Turkish Odyssey" in English, the "first guidebook of Turkey ever written by a Turk". He is the producer, director and writer of "Istanbul Unveiled", an award-winning travel documentary with eight international awards. Yenen gives lectures in the US and Turkey about travel in Turkey, Turkish history and culture. The majority of his lectures are in academic communities. His guidebooks are used as textbooks or are on suggested reading lists at various universities, and his articles and columns are published in international magazines and national newspapers.
SATURDAY, APRIL 2, 2016
3:00 pm
Remis Auditorium
Museum of Fine Arts
465 Huntington Avenue, Boston
Film & Presentation
DIRECTOR PRESENT
Directed by
Levent Ayaşlı, Şerif Yenen
Doc. / 2013 / 60 min.
In English